How-to: Change your address/register national health insurance at your local ward office upon moving.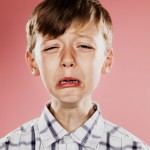 Moving
Moving around can be quite a difficult thing,and even more difficult when moving around in an unfamiliar country!
Here are a few tips and contact information to help you in your changing-of-address endeavors.
Most wards in Tokyo generally ask that you change your address within 14 days of moving. Although this is more a guideline, than a rule, it is very highly recommended to follow because if not, you will not get your mail. Also, anything else you do (such as registering and paying for national health insurance, opening a bank account, registering for a cellphone, etc) will be very restricted.
In order to complete a change of address, you will need
Your moving out certificate (an example below)
Residence card (or special permanent resident certificate)
Always prepare a second form of I.D. just in case.
Personal seal stamp/inkan (印鑑), if you have one.
Also bring your health insurance card to update it and change the address
In Japan, the change of address takes place at a ward office. Due to each ward office functioning in different ways, it is important to to know what specifically needs to be done in each ward to complete the process correctly.
Please keep in mind!
To move around between Tokyo, Yokohama, Kanagawa, and Chiba and vice-versa the procedures may vary in what documents are necessary to bring.
Please check out the list of ward offices below and search the English website or contact them for specific information.
When moving from one ward to another, you must first retrieve the "moving out certificate" from the ward you lived in and bring it to the new ward you will be moving to. From there you will be able to register for national health insurance and update your foreigner card.
Before or within 14 days of your move, please visit your previous ward office and use these phrases.
こんにちは、引っ越しをしまして

konichiwa, hikkoshi wo shimashite

Hello, I have moved houses

転出届を頂きたいです。

tenshyutsu todoke wo itadakitaidesu.

I would like to have a "moving out" certificate.

保健所も変更して下さい。

hokensho mo henkou shitekudasai.

Please also change my health insurance card.
Once you have received it, ask the clerk to help or fill it out following the guidelines below. Then bring this sheet, along with any other materials you need and go to your new ward address.
If you hand this sheet to the person at the counter, they should know what to do and begin to take you through the process. Most ward office you can ask them to speak english and they will do their best! As general advice, ask a Japanese friend to translate for you if it is over the phone or even at the office! Good luck!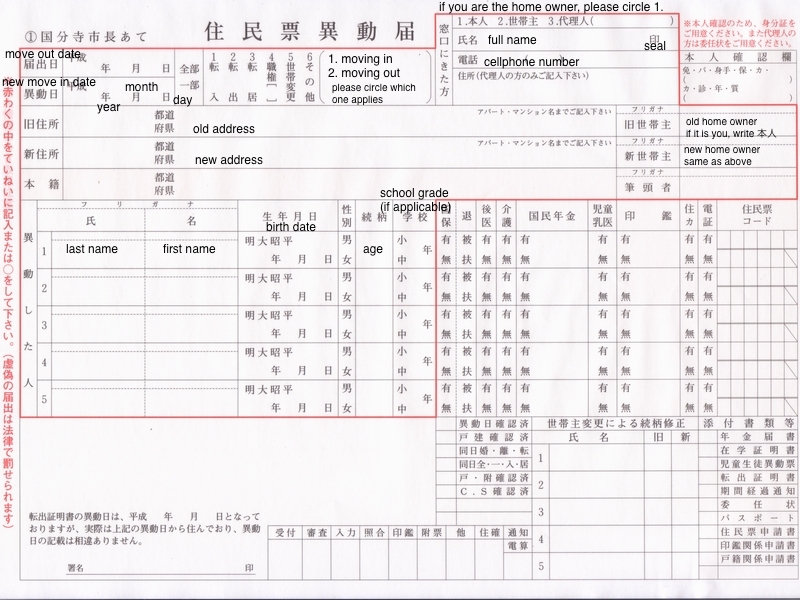 Type of Notification
Notification Period
What to Bring
Notification of moving to Shibuya City from overseas
Within 14 days of moving to Shibuya City
Your residence card (or passport, if your residence card will be issued at a later date) or special permanent resident certificate
Note: Household members may be required to submit documentation verifying their
to the head of the household.
Notification of acquiring a medium- or long-term visa
Within 14 days after acquiring medium- or long-term visa status
Notification of moving to Shibuya City from another municipality in Japan
Within 14 days of moving to Shibuya City
Your moving-out certificate and residence card (or special permanent resident certificate)
Notification of change of address (when moving within Shibuya City)
Within 14 days of moving
Your residence card (or special permanent resident certificate) and NHI card (if you have one)
Notification of moving out of Shibuya City
Before you move out
Documentation verifying the ID of the person filing the notification, such as a residence card, NHI card (if you have one), or personal seal registration card (if registered)
Note: When you file a moving-out notification, you will receive a moving-out certificate.
Notification of moving out of Japan
Before you move out
Documentation verifying the ID of the person filing the notification, such as a residence card, NHI card (if you have one), or personal seal registration card (if registered)
Tokyo Ward Offices
| | | |
| --- | --- | --- |
| Ward | Address | TEL |
| Chiyoda | 1-2-1 Kudanminami, Chiyoda-ku 102-8688 | 03-3264-2111 |
| Chuo | 1-1-1 Tsukiji, Chuo-ku 104-8404 | 03-3543-0211 |
| Minato | 1-5-25 Shibakoen, Minato-ku 105-8511 | 03-3578-2111 |
| Shinjuku | 1-4-1 Kabuki-cho, Shinjuku-ku 160-8484 | 03-3209-1111 |
| Bunkyo | 1-16-21 Kasuga, Bunkyo-ku 112-8555 | 03-3812-7111 |
| Taito | 4-5-6 Higashi-Ueno, Taito-ku 110-8615 | 03-5246-1111 |
| Sumida | 1-23-20 Azumabashi, Sumida-ku 130-8640 | 03-5608-1111 |
| Koto | 4-11-28 Toyo, Koto-ku 135-8383 | 03-3647-9111 |
| Shinagawa | 2-1-36 Hiromachi, Shinagawa-ku 140-8715 | 03-3777-1111 |
| Meguro | 2-19-15 Kamimeguro, Meguro-ku 153-8573 | 03-3715-1111 |
| Ota | 5-13-14 Kamata, Ota-ku, Tokyo 144-8621 | 03-5744-1111 |
| Setagaya | 4-21-27 Setagaya, Setagaya-ku 154-8504 | 03-5432-1111 |
| Shibuya | 1-1 Udagawa-cho, Shibuya-ku 150-8010 | 03-3463-1211 |
| Nakano | 4-8-1 Nakano, Nakano-ku 164-8501 | 03-3389-1111 |
| Suginami | 1-15-1 Asagayaminami, Suginami-ku 166-8570 | 03-3312-2111 |
| Toshima | 1-18-1 Higashi-Ikebukuro, Toshima-ku 170-8422 | 03-3981-1111 |
| Kita | 1-15-22 Ojihoncho, Kita-ku 114-8508 | 03-3908-1111 |
| Arakawa | 2-2-3 Arakawa, Arakawa-ku 116-8501 | 03-3802-3111 |
| Itabashi | 2-66-1 Itabashi, Itabashi-ku 173-8501 | 03-3964-1111 |
| Nerima | 6-12-1 Toyotamakita, Nerima-ku 176-8501 | 03-3993-1111 |
| Adachi | 1-17-1 Chuohoncho, Adachi-ku 120-8510 | 03-3880-5111 |
| Katsushika | 5-13-1 Tateishi, Katsushika-ku 124-8555 | 03-3695-1111 |
| Edogawa | 1-4-1 Chuo, Edogawa-ku 132-8501 | 03-3652-1151 |
Yokohama/Kanagawa
| | | |
| --- | --- | --- |
| Ward | Address | TEL |
| Nishi | Chuo Nishi Ward 1-5-10, Yokohama, Kanagawa prefecture | 045-320-8484 |
| | https://www.city.yokohama.lg.jp/lang/residents/en/ | |
| Aoba | Ichigaocho Aoba Ward 31-4, Yokohama, Kanagawa prefecture | 045-978-2323 |
| Kohoku | https://www.city.yokohama.lg.jp/kohoku/ | 045-978-2323 |
| Naka | https://www.city.yokohama.lg.jp/naka/ | 045-224-8181 |