How to: Get a JR rail pass
A Japan rail pass (a.k.a. JR pass) is an incredibly convenient and cost-efficient method of traveling around Japan. It has been created to stimulate convenient travel and tourism throughout the country. This pass is sold by the Japan railways group and valid for transportation on all major platforms provided by JR (with a few exceptions).
If you have a relative or a friend visiting and planning to roam around Japan, this is a must-buy item!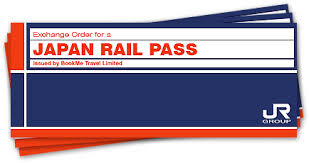 The JR pass is available for 7 days, 14 days, and 21 day use. Prices and detailed information can be obtained at the websites below.
Here are a few basic regulations and important things to know about the JR pass and are posted on the second website below.
1. Those who are eligible for a JAPAN RAIL PASS are: foreign tourists visiting Japan abroad for sight-seeing, under the entry status of "temporary visitor" or a Japanese national living in a country other than Japan (having entered the country on a Japanese passport), and must be able to provide written proof of these things.
2. The JAPAN RAIL PASS offers an incredibly economical way to travel throughout Japan by rail. Please be aware, however, that some restrictions apply. The pass is not valid for "NOZOMI" and "MIZUHO"trains on the Tokaido, Sanyo and Kyushu Shinkansen lines.
3. JR service on certain sections of track continues to be disrupted due to the effects of the Great East Japan Earthquake and other natural disasters. Ongoing issues include track closures, cancellation of specific trains, and schedule (time) changes. Please plan accordingly and make a habit of checking the schedule ahead of time via online or mobile phone apps.
4. The routes and trains for which the JAPAN RAIL PASS is valid are subject to change after the start of service of the Hokuriku Shinkansen on March 14, 2015.
5. A JR pass cannot be obtained in Japan and must be purchased as an Exchange Order from an authorized sales office before entering the country.
6. The type of PASS described on the Exchange Order cannot be changed.
7. You cannot use an Exchange Order when you travel on JR lines. Turn in your Exchange Order and obtain your JAPAN RAIL PASS at one of the JAPAN RAIL PASS exchange offices.
8. Your Exchange Order must be turned in for a JAPAN RAIL PASS within three months of the date the Order was issued.
9. If the Exchange Order is lost or stolen, or you are unable to provide it for another reason, no exchange for a JAPAN RAIL PASS can be made.
10. At the exchange office, you will be asked to fill in a short application form and to show your passport with the Temporary Visitor stamp/sticker you received on entry into Japan. You must show your passport and this stamp/sticker to process the Rail Pass Exchange Order.
http://www.japan-rail-pass.com/jr-pass
http://www.japanrailpass.net/eng/en001.html
Have safe and smooth travels!