How to: Get rid of large-sized discarded items
Some areas of Tokyo provide very convenient process for us to get rid of discarded items which you can't take out on the usual days. You can reserve the date through internet and register what you will get rid of. And you buy tickets from like convenience store near your house, stick them on your items and just place them outside of your house. It will be collected at the day and time you reserved.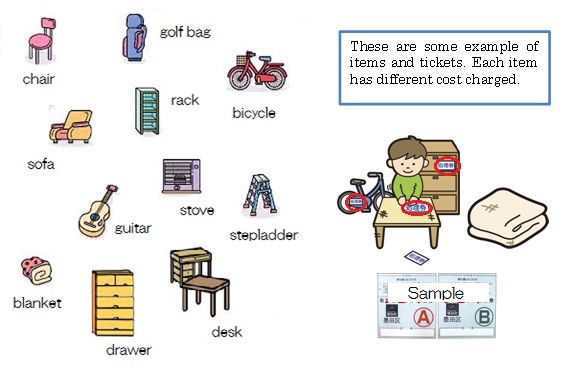 HP: http://sodai.tokyokankyo.or.jp/Sodai/V2Index/0/1
If you are not living in the area that has the service I just explain above, please check your city office or ward office's HP and find out what service they can provide for you. They each have different processes. Or you might want to arrange discarded item collecting company. You might see the track with speaker saying that they will collect any item without cost. But please be careful and not to jump into that quickly. Because the truth is that not everything is collected for free and there will be some conditions. You might end up with paying a lot. If you want to arrange collecting company, please search well enough so that you won't be ripped off!!
Here are some links of collecting company around Tokyo.
Eco-duce : http://eco-duce.com/ (Japanese only)
Ecopit : http://goo.gl/2oVHp0 (Japanese only)
★Electric Appliance Recycling Law★
There are some items that can't be collected as discarded item.
-TV (Tube television, liquid crystal television, plasma television)
-Washing machine/Drying machine
-Refrigerator/Freezer
-Air conditioner

*There might be some more items that can't be collected according to who you organize this with.
If you are replacing these items with new ones, the old ones are usually collected by the store that you buy new ones from. But if you are just trying to get rid of these items not buying any new ones, you will need to contact the store that you bought your item from, or collecting company. The charge of collection would be different with each company or stores.
If you are living in 23 ward in Tokyo, you can call : 03-5296-7200 and they will help you with discarding these items.